The Pin Terminal is our SmartRigging standard end terminal.
It is totally cast in a sturdy, black, Poly Urethane (PU) coating, assuring a long lifespan and water tightness of the rigging cable.
To ensure the best fit for you and your needs, we can provide these terminations in different sizes and diameters. The thimbles are made in high tensile stainless steel to provide long steadfastness.
Our pin terminal fittings can also be made with a spherical bearing, allowing movement under load, as needed with rotating wing masts.
Our SmartRigging Lash Eye Terminal is cast in a sturdy Poly Urethane coating, assuring a long life span and water tightness.
Our lash eyes are engineered and machines with grade 5 Titanium, ensuring lightweight and small terminals with much space for lashing.
Our lash eye is equipped with a smart bumper to protect the terminal from chafe.
Our SmartRigging central pin lightweight solution can be engineered and produced with SR3 up to SR500. The central pin is engineered and produced with grade 5 titanium for the lightest and most rigid solution.
We engineered a smart fit winding thimble, fitting the smallest possible spreader end.
To provide you with your individual end terminal, we can produce a very light and low windage spreader solution.
After extensive testing and engineering, SmartRigging can produce PBO head stays for hydraulic or hand furling units.
The producing range starts from SR9 until SR250. Let SmartRigging provide you with the best options.
This lightweight head stay will dramatically improve the sailing performance of new build and refit yachts. Our special designed smart size end terminal can be put in a special adapter, fitting each unit without any alterations.
SmartRigging has developed the continuous rigging system in cooperation with several large ocean racing teams. This new system eliminates any interruptions in the rigging solutions.
The different diagonal and vertical cables are fully integrated into a single cable running from the V1 turnbuckle upwards via the spreader to the mast. This eliminates the need for pins, strips or tip cups at the extremities of the spreader end while retaining strong links.
Additionally, to improving the spreader ends appearance, this solution is 15 per cent lighter than traditional pin systems. The total weight saving in comparison to a rod system is 80 to 90 per cent. Furthermore, it reduces windage, and there is no limit in sizes.
This SmartRigging system is entirely compatible with all other existing PBO, Carbon, Wire, Dyform and Rod systems.
All of our end terminals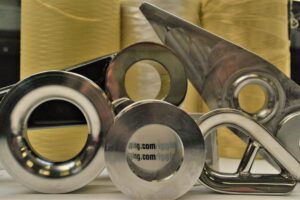 Pin Terminal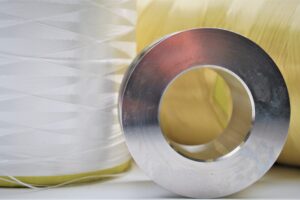 Lash Eye
Furling Head Stay